Look Who Surprised Me At The Store Today....
Hi Everyone!
Hope you are doing well this evening! Just wanted to share a 'special' surprise with you. My daughter Sarah and my granddaughter Claire,

(Emelia stayed home with daddy)

, flew in from Atlanta this afternoon to surprise me for my birthday AND my other daughter drove over from Lakeland! I was shocked to see them walk in the door at about 4:45PM this evening! I couldn't believe my eyes! Here is a photo of us -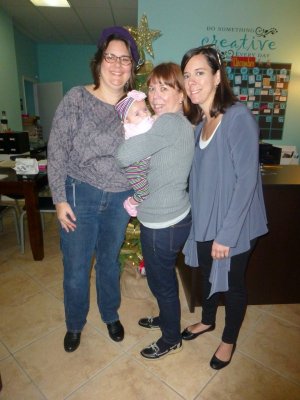 Best Birthday Surprise EVER!! Stop by before 11AM tomorrow morning to say 'hi' to baby Claire if you are in the area! She is beautiful!
I have a Snowmen Canvas class tomorrow morning, but since I have my family in town, I may close earlier than usual. Please call if you plan on coming to the store AFTER 12:30PM.
Have a GREAT weekend -
Kathy
'Do Something Creative Everyday!'