| | |
| --- | --- |
| Monday | Closed |
| Tuesday | Closed temporarily |
| Wednesday | closed temporarily |
| Thursday | Closed temporarily |
| Friday | Closed |
| Saturday | Closed |
| Sunday | Closed |
Weather may occasionally interfere with our store hours and classes. PLEASE call ahead if there is any doubt in your mind if we are open. Thank you so much!
Customer Appreciation Photos, Calendar Photos & Updates
Hi Everyone -
Thank you, thank you, thank you to all of you attending our Customer Appreciation Day, Saturday, October 3rd! We had a blast! Everyone received a grab bag ($12-$15 value), we had cake, coffee, punch, FREE Make & Takes and hourly Raffles!

Congratulations to our Raffle Drawing Winners:
- Kim Ghiselin: Avery Elle Stamp & Die Set
- Lynn Sanford: Set of 15 Gelatos
- Janet Epstein: Lawn Fawn Stamp & Die Set
- Madelyn Yarbrough: Carl Paper Trimmer
- Laura Finn: Envelope Punch Board
- Betty Dickenson: Scrapbook Album
Here's a photo of Janet and Maddie with their Raffle Prizes


Hope you enjoy these photos of Customer Appreciation Day! The cake was yummy -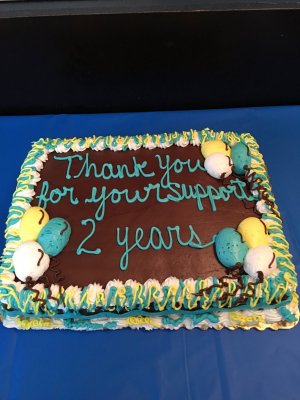 Martha, Chrystal & Frizzell -


Judy, Janet and Maddie working on their Make 'N Takes -

Tana's shopping our Lawn Fawn -
Three generations of 'Ana's' spending the day at The Stamper's Cove!

This is trouble, trouble and trouble - three of my favorite ladies!


How can they pass up the 'Little B?'


Thanks again to everyone that stopped by with well wishes on our 2nd Anniversary! I appreciate your support!

We have lots of great Crafting Opportunities for you in October! Click the link below to our October Calendar:
http://www.thestamperscove.com/module/events.htm?pageComponentId=611663&month=10&year=2015
Here are some photos of our upcoming classes:
Tag Tuesday, Tuesday, October 6th, 1-2:30PM. Class Fee: $5.


Tuesday, October 6th 6-8PM or Wednesday, October 7th 1:30 - 3:30 PM. Class Fee: $12.50. We will make 3 cards using the Bo Bunny Enchanted Harvest Paper Collection.


Art Journal, Thursday, October 8th OR Saturday, October 10th, 10AM - 12PM. Class Fee:$10. Join Chrystal to create this great journal page to add to our Art Journal!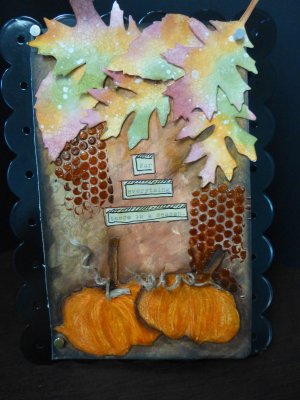 Dies To Die For, Tuesday, October 13th, 1-3PM. Class Fee: $20. We will use the 'Birthday Centerpiece' die from My Favorite Things to make these two cards (the one on the right is a shaker card).

Rare Oddities Halloween Cards, Thursday, October 15th, OR Saturday, October 17th, 1-3PM. Class Fee: $12.50. Join Chrystal to make 3 fun cards using papers from Graphic 45's Rare Oddities Collection. One card even has a place for a piece of candy! Fun! Here is one of the cards:

Lawn Fawn Holiday Cards, Friday, October 23rd. 1-3PM. Class Fee: $18. We will use Lawn Fawn Stamps, Papers and Dies to create these 4 Holiday cards! I have made one of the cards with Color Burst Water Color (blue card) - these are so fun!


Fall Harvest Album, Saturday, October 24th, 10AM - 3:30PM. Class Fee:$35. Bring your lunch (or we can call out) and spend the day making this GORGEOUS Fall Album. We will use beautiful papers, embellishments and chipboard from Bo Bunny to create this album! Here are several photos from the album:

A Christmas Carol Holiday Cards, Wednesday, October 28th, 1:30 - 4PM. Class Fee: $20. We will create 5 great Holiday Cards using Graphic 45's A Christmas Carol Collection. We will use the coordinating stamps for the inside of the cards plus ribbons, flowers and dies to add 'dimension' to these cards. Envelopes are included. Here is the photo -


Pumpkin Canvas, Saturday, October 31st., 12:30 - 3:30PM. Class Fee:$25. Join Chrystal to create this beautiful Fall Pumpkin Canvas.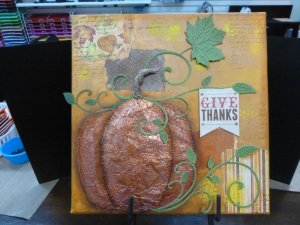 These photos of all the class projects do not do them justice - you can't see the dimension in them - you really need to stop by the store to see them 'in person.' If you would like to register for any of these classes - call the store: 941-907-0802. If you have any questions, you can again, call the store or email me at: kathybixler1973@gmail.com. Please do not reply to this email - I will not get it!

Today, October 5th is actually THE day, two years ago, that I opened the store! I cannot believe it has been TWO YEARS - WOW! I want to thank each and every one of you reading this email for your help and support! Without YOU, I would not be here - and now we have extended our lease for two more years!! I appreciate you ALL - I have so much fun everyday! In the past two years, we have crafted together, laughed together, and attempted to solve the world's problems together! I feel privileged and honored to have spent the past two years with you! I look forward to many, many more!

See you soon!
Kathy
'Do Something Creative Everyday!'