| | |
| --- | --- |
| Monday | Closed |
| Tuesday | Closed temporarily |
| Wednesday | closed temporarily |
| Thursday | Closed temporarily |
| Friday | Closed |
| Saturday | Closed |
| Sunday | Closed |
Weather may occasionally interfere with our store hours and classes. PLEASE call ahead if there is any doubt in your mind if we are open. Thank you so much!
Photos, Photos and More Photo Plus Class Updates
Hi Everyone!
Hope you are doing well and had a Happy Halloween! We had two classes on Halloween and I dressed up to welcome everyone!


Here is a group photo - Happy Halloween!


These ladies all made the Pumpkin Canvas - Judy & Cheryl are working hard!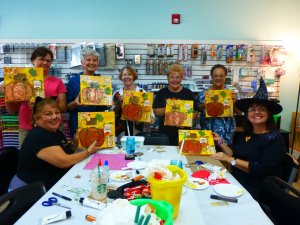 Marsha, Kim, Sarah & Linda are just about finished - Magda & Marcia took a break to smile!


Thanks, Chrystal for a GREAT Class!

Holiday Open House - Sunday, November 8th, 12PM - 4:30PM. Join us this Sunday, November 8th to kick off the Holiday Season! We will have FREE Make 'N Takes, Hot Wassail, Pumpkin Pie, Sales, Drawings PLUS with every $25+ purchase you will receive a script die from Taylored Expressions!

Upcoming Classes: Here are some photos of upcoming classes at The Stamper's Cove!



Tag Tuesday, Tuesday, November 3rd, 1-2:30PM. Class Fee: $5.

You will use blue inks, stains and embossing folder and much more to create a fun dimensional Christmas Tree using a sizzix die and Tim Holtz inks! You will love this tag!
Double Layout Design 10, Tuesday, November 3rd. 6-8PM. Class Fee: $10. We will use 10 photos to complete this layout. 6 of the photos are vertical and four photos are horizontal. Here is a sketch of the layout we will be creating (the 10th photo will be in place of the 'title.' We will move the title to another place on the page.


Layouts To Love, Friday, November 6th (all day, 12:30 - 4PM) OR Tuesday, November 10th and Thursday, November 12th, 6-8PM. (must attend both nights to complete the layouts. Class Fee: $27. In this class we will complete three 2-Page Layouts. We will use papers from the Graphic 45 A Christmas Carol Collections and Pumpkin Spice & We Are Family from Simple Stories. This class will include all the papers and embellishments to create all three layouts. Here are photos of all three layouts. They are a bit hard to see in the photos but are available for your viewing at The Stamper's Cove!
Pumpkin Spice: We Are Family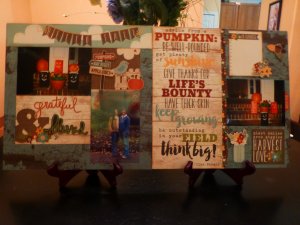 A Christmas Carol

Memory Crate, Friday, November 13th, 10:30AM - 3:30PM. Class Fee:$27.

In this class you will join Chrystal to will create a place for your photos & memorabilia - placing your photos on small 4x6 file folders and your memorabilia in pockets, bags and folders plus you will be adding lots of embellishments! All in a fun wood crate. Here are some photos of the front of the crate (there will also be a burlap flower on the front) and the inside of the crate. You can make the folder titles any thing you want - Chrystal used letter stamps to create them. You really must come into the store to see this project - it is fantastic! It would also make a wonderful gift for the Holidays!


Bo Bunny Sleigh Ride Holiday Cards, Saturday, November 7th, 10:30 - 1PM. Class Fee: $15. We will be using papers and embellishments from the Bo Bunny Sleigh Ride Collection to create these 4 cards. These cards are 6x6 and are really gorgeous! Here is a photo.


I also have the 'Dies To Die For' cards ready, but I forgot to take the photo! Tuesday, November 10th. 1-3PM. Class Fee: $18. We are using the Impression Obsession Die ' Reindeer Flourish.' It is a beautiful die! We are doing in in gold foil card stock as well as red foil card stock. Really nice! I will get a photo to you in the next couple days!

Here is a link to the entire November Calendar! Call the store: 941-907-0802, if you have any questions or stop by the store to see all our projects!
http://www.thestamperscove.com/module/events.htm?pageComponentId=534993&month=11&year=2015

So before I go - here is a photo of my girls on Halloween. Emelia is on the left - dressed as Elsa from Frozen (these are all the neighborhood kids going Trick or Treating together) and Claire is in the stroller - dressed as Ana from Frozen (at Emelia's insistence). Also, here is a photo of Claire eating her first lollipop - I think she likes it!


Take care everyone! Thanks for all your support - I hope you can stop by on Sunday to have some pie, make some stuff and enjoy the fellowship!

Kathy
'Do Something Creative Everyday!'