| | |
| --- | --- |
| Monday | Closed |
| Tuesday | Closed temporarily |
| Wednesday | closed temporarily |
| Thursday | Closed temporarily |
| Friday | Closed |
| Saturday | Closed |
| Sunday | Closed |
Weather may occasionally interfere with our store hours and classes. PLEASE call ahead if there is any doubt in your mind if we are open. Thank you so much!
Hi Everyone,


Hope you are staying warm. We have a lot happening in the next few weeks, which is so exciting! Please remember to respond to

ladybugspapercrafts@gmail.com

, call the store at 941 725 4537 or stop by the store 11532 Palmbrush Trail, Lakewood Ranch to sign up for classes, events or Shop Hop. Payment is expected when you register for the class.

So let's start with Shop Hop: Bags are only $10.00 These sold out last year & I did have a waiting list so please do not delay in getting your bag. Kick off is Thursday, March 15 at 4:30PM - 7 PM. We are Down By the Sea Beach Shop. Look at our great tags. We could also use help to create tags & pages:


Stamplistic, Friday, Feb 9 at 6:15 PM, A Card Affair, $35.00 Limited Seating:

In this class, you will be creating 3 unique cards, and decorating them with Swarovski crystals! One card you will be cutting and layering a new Stamplistic stamp design, a beautiful flower. Another card will focus on Stamplistic's new mini design square stamps. And on the third card, you will learn how versatile Stamplistic's dies truly are with a clever card base cut. All three cards can be used for any occasion and are a true sampler of all that Stamplistic has to offer! Not only will you be amazed at the ease and beauty that these cards bring, but we will show you some new ideas and techniques that will inspire you in future card making! You will fall in love with Stamplistic's stamps and dies!

Scrap & Dash. It is this Tuesday, Jan 23rd, 10:30 AM -7 PM. $6.00. Bring Those Christmas pictures because this one is a cutie. Please register by Monday at noon. Limited # available. There may be some variations: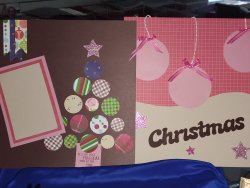 Wednesday, Jan 24th, Sip & Create, 10 AM, $3.00, There may be some variations.



Shop Hop Prep following class

Thursday, Jan 25th, Shop Hop Prep & we are closing early 5PM

Friday, Jan 26 & 27. 10 - 6 Craft & Create, $10.00

Happy crafting,
Nancy
941 725 4537


ladybugspapercrafts@gmail.com


11532 Palmbrush Trail, Lakewood Ranch, FL 34202